A premium experience with Over the Top Helicopters
William Rees Explorer Package
Two Nights Accommodation in one of our Lakeview Rooms/Apartments
Complimentary upgrade to an Executive Room/Apartment based on availability
Breakfast each morning in our True South Dining Room
Bottle of our exclusive The Rees Surveyor Thomson pinot noir on arrival
Complimentary undercover car parking
Late checkout of midday
William Rees Explorer Helicopter Trip
Enjoy a scenic flight with
'Over The Top Helicopters'
to their private High Country Station, featuring a unique stone cottage built in 1865 by pioneering goldminers. For the full Kiwi experience, enjoy lamb chops on the BBQ and refreshments and try your skill at toss the horseshoe. Includes private helicopter, driver, chef, pilot, and photographer all rolled into one! Choose to include an alpine landing for an additional $385.00.
Two people for only $360.00 per person per night
Four people for only $240.00 per person per night
Six people for only $200.00 per person per night
Upgrade this package to stay in The Rees Lakeside Villas and enjoy all the privacy, character and charm of a home away from home, but also receive the convenience, service and total peace of mind that comes with being part of a fully managed 5 star hotel. Featuring 3 bedrooms all with ensuite bathrooms over two storeys, large living areas and 2 terraces with a hot tub overlooking Lake Wakatipu.
Two people - $775.00 per person per night
Four people - $415.00 per person per night
Six people - $290.00 per person per night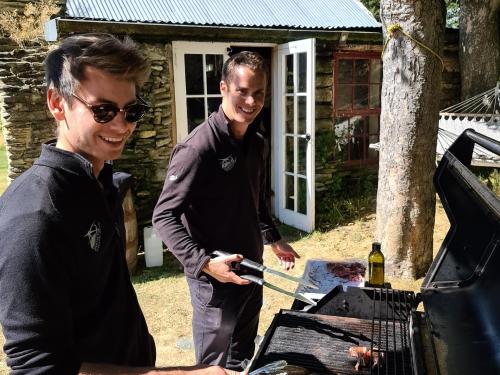 To book - please email reservations@therees.co.nz