Milford Sound / Piopiotahi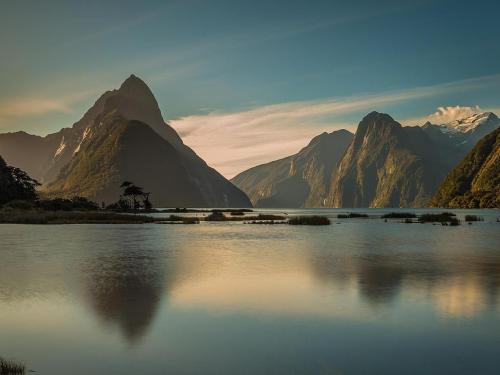 Visually unparalleled, Milford Sound is New Zealand's most popular tourist destination – and for good reason! Crowned as the 8th natural wonder of the world, Milford Sound is famous for its unique character, gushing waterfalls (some of New Zealand's largest!), lush rainforests, and abundant wildlife.

With an average annual rainfall of 6,412mm (252in) each year, Milford Sound is known as the wettest inhabited place in New Zealand and one of the wettest in the world. This huge rainfall creates dozens of temporary waterfalls, cascading down the cliff faces, some reaching a thousand metres in length. Smaller falls from such heights may never reach the bottom of the sound, drifting away in the wind.

Fiords carved by the glaciers dominate the scenery eventually blending into the wild and windswept west coast.