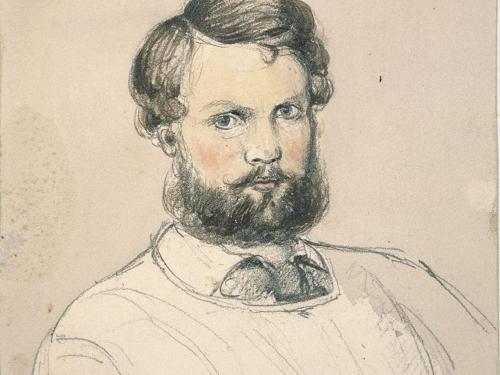 The Founder - Dynasty of Cricket
William's broader family was practically the founding dynasty of English cricket.
The Rees, Pocock, Gilbert and Grace families produced no less than 12 cousins who were all first class cricketers.
Four played for England and others represented New South Wales, Victoria, and various provinces in New Zealand. William alone represented West Country, New South Wales, Otago, and Canterbury.

Most famous of them all was William's godson, cousin and namesake, William Gilbert Grace.William gave young W.G. Grace his first cane-handled cricket bat and coached him in its use. The godson grew to be the legendary captain of England who dominated the world of cricket for an amazing 44 years.Godson and godfather corresponded regularly and there is a copy of W.G. Grace's opinion of Australian cricket and Australian umpires in The Rees Library.

After School
By 1852, the young Rees had completed his education at the Royal Naval School, Camberwell, an engineering apprenticeship, and a spell as assistant master at Mount Radford College, Exeter. Now, he was setting out to seek his fortune – on the gold diggings at Turon in New South Wales.
It turned out to be farming not prospecting that fascinated W.G. in Australia. He quickly formed a partnership with two established Australian graziers, George Gammie and Colonel William Lewis Grant, to develop new runs on unmapped land being offered in New Zealand.But, first, W.G. was set on marrying his cousin and childhood sweetheart, Frances Gilbert.

He returned to England in 1858. The wedding took place mid-year, then W.G. and his new bride set sail for New Zealand. William and Frances were off to find "The Promised Land of Rees".

Exploration
The newly-weds arrived in Port Chalmers in February 1859. W.G. went straight to work. He acquired an established sheep run at Dalvey, where Tapanui stands today.Mission accomplished, he hurried back to Dunedin to join Frances for the birth of their first child, Mary Rose.

While Frances recovered, W.G. rode north to the Shag River. At Coal Creek, he leased some more land to hold the stock that his partners would ship to him from New South Wales. Then, he returned to Dunedin to organise his expedition.

The Rees - Exploration. In January 1860, Rees set off – with a party of six on horses with packhorses to carry their supplies. They had a long rough ride ahead – and most of it through unmapped territory.

The Rough Ride
The riders headed northeast from Dunedin to the Waitaki river mouth, up the river to Omarama, to Ahuriri and through the Lindis to the upper reaches of the Clutha River. Then, it was southwest to Wilkins Station near the junction of the rivers draining Lakes Hawea and Wanaka, before heading along the Cardrona range. They climbed to the top of a ridge to scout the view.

Mountains, mountains, and more mountains – a grand but dismal sight for hopeful farmers. It was enough to make four of the six pack it in – but not W.G.and Nicholas von Tunzelmann. They pressed on further south along the Crown Range. On their next ride to a ridge top, they were rewarded with the first sight of what would become known as "The Promised Land of Rees".

Discovery
For three weeks, WG and Von Tunzelmann probed the plains and peaks along the northern shores of the lake. It was an eventful journey – by horse, driftwood raft, and finally on foot. Along the way, they encountered quicksand, fought off wild dogs and rats, narrowly escaped a bushfire, and endured the pangs of hunger.

Six weeks after their departure from Dunedin, they returned – ragged and gaunt – to file sketch maps of what they had seen and to lodge their claims to grazing rights. Rees gained rights to graze more than 240,000 acres in the Wakatipu basin – provided he could stock the land quickly. That meant driving 3,000 merino sheep across the rugged mountain ranges and fast-flowing rivers that stood between Coal Creek and the Arrow River basin. It was a daunting task that WG had to accomplish before his grazing rights would be confirmed.

Settlement
The task of settling the land proved just as challenging. William and Frances travelled to Invercargill and purchased a whaleboat from the renowned southern pilot Captain Lewis Akkers. They named their boat the Undine, packed it with building supplies and stores and bought a bullock team to haul it overland to Lake Wakatipu.

Undine's first lake voyage took WG and Frances to see work start on their new homestead at Queenstown and then back to Kingston so they could return to Dunedin via Dalvey. This was the route WG planned to use regularly to bring in his supplies and pack out his wool. In fact, Undine would be the first of a fleet of ferries that WG would soon be operating on Lake Wakatipu – though he didn't know it at the time.

The Great Sheep Drive
With the homestead building under way at Queenstown, Rees could start his great sheep drive. His young shepherd Alfred Duncan thought he knew a short cut. He would jump the sheep across what was almost a natural bridge across the thundering water of the Kawarau Gorge. But the sheep baulked at the jump.

So WG and Duncan decided to try rafting the sheep to the other side of the gorge instead. WG swam a rope across the river to haul the raft back and forth. On the first crossing, the raft overturned, trapping Duncan beneath it. A swimmer sent to free him also became trapped. WG saw that the only chance of a rescue lay in cutting the rope on one side of the gorge and to let the raft swing to the other. It worked – but the idea of rafting the flock over the wild Kawarau obviously would not.

There was no alternative now but to back track for miles and then take the long northern trail that WG and Von Tunzelmann had blazed over the Crown Range. So much for short cuts.

Trying Times
It took four weeks to complete the great sheep drive. When it was done, Frances joined WG at Queenstown. By now she was in an advanced state of pregnancy with their second child. George Manning Rees was born two weeks after her arrival and died less than two months later. Tragedy would strike again, within a month. Frances's brother John Gilbert, who had traveled to New Zealand with the newly-weds, was drowned trying to cross the Clutha River. Then, there was another drowning.

The Rees ferry boat over-turned in a storm on the lake. One passenger, William Rogers, was swept away and lost. Another, John Mitchell, was saved by WG's boat master Jack Tewa. For his bravery, Jack Tewa was awarded the Royal Humane Society medal, on WG's recommendation. Jack was about to trigger a dramatic change in the fortunes of The Promised Land of Rees…
Striking it Rich
In August 1862, Jack Tewa had barely returned to work after his rescue when he turned up a trace of gold in a shovel full of gravel from The Arrow. WG knew what that could mean. The Otago gold rush was already under way. The law required grazing to make way for mining if a workable prospect had been found.

He struck a deal with his employees: keep quiet about the gold until the shearing was finished, and there would be food and time to work the prospect. The deal held till the wool was packed – but barely. His shearers, Thomas Arthur and Harry Redfern, were next to strike it rich – at the Shotover River. Two of the world's most significant gold fields had been discovered in the very heart of The Promised Land. The news was quickly out. Within weeks, thousands of gold-hungry, food-hungry miners poured onto the Rees runs.

Days of Gold
William Rees did not resist the miners' rush. He welcomed them, fed them from his farm stock, ferried their gold out and their supplies back.
He would turn out in the dead of night, with a revolver tucked in his belt, to ensure that every hungry miner had a share of flour and food when his ferry boat docked.

When a burly miner shaped up and challenged his honesty WG drew on his boxing skills and he felled his aggressive critic with a single blow. It didn't happen again. Rees held a vision for Queenstown that stretched far beyond the here-today-gone-tomorrow rush of the miners. He used his engineering experience to set up a timber mill on Pigeon Island and began constructing the major buildings of the town.

WG converted his woolshed into Queenstown's first hotel, and went on to build the first government offices, first church, first Masonic lodge, and was instrumental in the development of the first hospital.

Building the Community
Rees became a pillar of the new Queenstown community – the founding president of its first cricket club, first jockey club, first acclimatisation society, chairman of the first Town Committee and lay reader in the Anglican church. In 1863, W.G. was operating no less than 14 businesses in the town – as a carrier, coach proprietor, lighterman, boat builder, hotel keeper, store keeper, contractor, sawyer, gold buyer, slaughterman, baker, land agent, runholder, and ferryman.

He showed his sporting form at the town's St Patrick's Day festival, when he won the "single sticks" fencing contest, his horse Bucanneer took first place in the hurdles event, and his yacht Young America led the fleet home over a 20 mile course in the main race of the regatta. W.G's enduring passion for cricket produced an invitation to join the Otago cricket team in 1864 for their match against the first All-England XI to tour New Zealand.

The English team included another famous cricketing cousin, Teddy Grace, who was caught out by W.G. during the game. As Teddy said: "It was quite a treat to watch him."

The Tiring Battle
The formal proclamation of the Wakatipu Gold Fields at the beginning of 1863 plunged Rees into a tiring battle to hold onto his rapidly vanishing dream of a great farm on an idyllic lake shore. By now, the Wakatipu district was studded with rough-and-tumble mining communities, inhabited by rambunctious, colourful characters like One-eyed Jimmy, Captain Moonlight, Bully Hayes, the Buckinghams, and the bard of the goldfields, Charles Thatcher.

Unable to turn back the clock, WG turned to the courts. He fought and lost a case to exercise pre-emptive rights to land surrounding his homestead in Queenstown. In the end, he had to purchase his lots in the town like everyone else. He was more successful with his claim to compensation from the Otago Provincial Council for loss of large tracts of his grazing land.

Midway through 1864, the Council announced settlement of the claim – without revealing its terms. Rees and his partners were rumoured to have received 10,000 pounds for the loss of grazing rights to over 240,000 acres.

Fond Farewell
Rees had moved from Queenstown to a new homestead near the Kawarau Falls by the time his settlement with the Provincial Council was announced. The Rees–Gammie–Grant partnership was formally dissolved in July 1865 and WG sold his Kawarau Falls and town properties a year later.

There is evidence that the partnership had come under stress, not only from the sudden loss of grazing to mining but also from outbreaks of disease among the sheep, and the failure of Gammie's investment in a costly country house and farm in Oxford – Shotover House. In April 1867, the Wakatipu community gathered to say farewell to W.G., and Frances. They presented the departing couple with a purse of sovereigns that would be smelted and reshaped into a silver tea service. An illuminated scroll expressed their sentiments: "The interest you have at all times shown in the welfare of the district cannot be too highly estimated, and the services rendered by your charity and kindness too warmly appreciated by us."

Post Script
After their farewell, Willam. and Frances Rees moved on to manage a series of South Island sheep stations – at Benmore, then Otekaieke, Tekapo, and Galloway near Alexandra.

W.G. took up the position of Government Stock Inspector at Timaru, then further postings – to Greymouth, Ashburton, and finally Wellington – before his retirement in 1897. William Gilbert Rees died in Wairau Hospital, Marlborough, on 31 October 1898. Frances lived on for a further 28 years – dying at Stoke in 1926.

Today, they are remembered most for the achievements of their eight meteoric years in Queenstown. The Rees, Arrow, Dart and Shotover Rivers. Coronet, Cecil, and Walter Peaks, The Mounts – Nicholas, Alfred, Ben Lomond – Jack's Point, Arthur's Point, and Frankton (for Frances) are named by them, or after them and others who worked for them.

William and Frances have left an enduring mark on The Promised Land of Rees – the True South.